Blogs
Keto Cheese Pickle Chips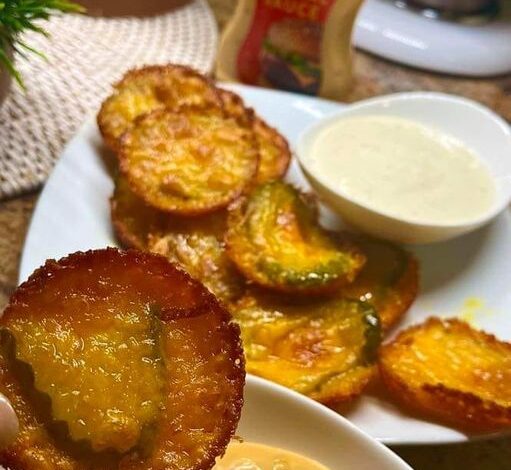 Free Keto Meal Plan : KETO DIET PLAN FOR BEGINNERS STEP BY STEP GUIDE
Keto Cheese Pickle Chips, I made these Cheesy Pickle Chips and my family went crazy. It's so quick and easy to make and it's a Keto recipe. You just put some grated cheese in a muffin tin, put a pickle on the cheese, sprinkle with ranch seasoning (you could use your favorite season), top with more cheese, and bake for 10 minutes. Enjoy
Ingredients for Keto Cheese Pickle Chips
Muffin pan regular size or mini
Shredded cheese I used a Mexican blend
Thin sliced dill pickles
Everything Bagel Seasoning optional – you can use any seasoning you want.
INSTRUCTIONS:
Preheat oven to 350 degrees
Sprinkle 1 teaspoon shredded cheese into a non stick muffin pan.
Place one pickle on top of the shredded cheese.
Sprinkle about 1/2 teaspoon shredded cheese on top of the pickle. It won't cover it completely and that's okay.
Sprinkle each chip with Everything bagel seasoning if using. Note: you can use any seasoning you want you you can bake them without any seasoning. I want to encourage you to try them both ways.
Bake at 350 degrees for about 6 minutes or until the edges of the cheese are dark brown and all the cheese has fully melted.
I've noticed the silicone pans take about 3 minutes longer to get those crispy edges.
These cheese should be bubbling and flat. If the cheese is not bubbling they will not turn out crispy. Be sure not to take them out of the oven too soon. If you do it will just be melted cheese and it didn't have enough time to form a cheese crust that holds the chip together. The darker brown the cheese the crunchier the chip.
NURITIONS
CALORIES:188kcal
FAT : 13g
CARBOHYDRATES: 1g
PROTEINS : 8g
Free Keto Meal Plan : KETO DIET PLAN FOR BEGINNERS STEP BY STEP GUIDE