Blogs
Keto Cheesy Asparagus Casserole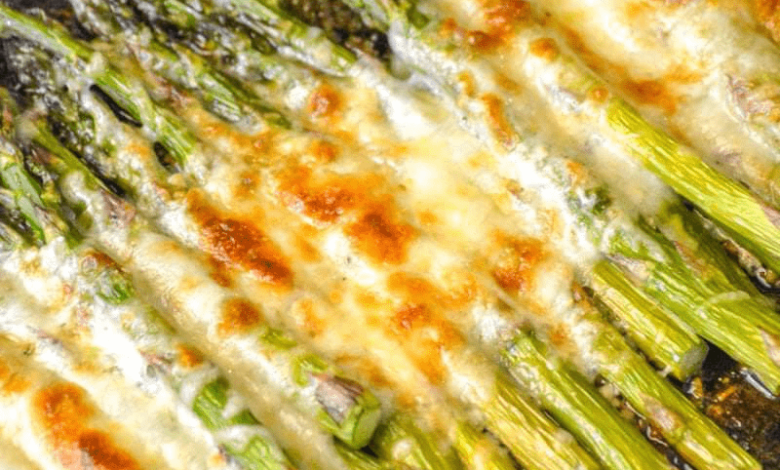 Free Keto Meal Plan : KETO DIET PLAN FOR BEGINNERS STEP BY STEP GUIDE
INGREDIENT for Keto Cheesy Asparagus Casserole
2 pounds fresh asparagus
4 ounces mascarpone cheese (or cream cheese if you must)
1 teaspoon coarse kosher salt (or 1/2 teaspoon fine salt
1/4 teaspoon ground black pepper
1/2 teaspoon garlic powder
1/8th teaspoon ground nutmeg
1 cup shredded cheese (mozzarella, Italian blend, or other mild white cheese
Free Keto Meal Plan : KETO DIET PLAN FOR BEGINNERS STEP BY STEP GUIDE
INSTRUCTIONS:
1)- Preheat the oven to 400 degrees Fahrenheit.
2)- Trim the asparagus spears (see note above.)
3)- Spread the trimmed asparagus out on a baking sheet or dish. Overlapping into two layers is fine.
4)- Put the butter, mascarpone, salt, pepper, garlic, and nutmeg in a small bowl and microwave for 30 seconds.
5)- Whisk until smooth and then pour over the asparagus spears. Sprinkle with shredded cheese.
6)- Bake for 30 minutes, or until the cheese is melted and the asparagus is tender but not mushy.
7)- Remove and serve hot. Store leftovers in an airtight container in the refrigerator for up to 5 days.
NURITIONS: Amount Per Serving
| | |
| --- | --- |
| Calories | 241kcal |
| Fat | 19g |
| Carbohydrates | 6g |
| Proteins | 11g |
Free Keto Meal Plan : KETO DIET PLAN FOR BEGINNERS STEP BY STEP GUIDE