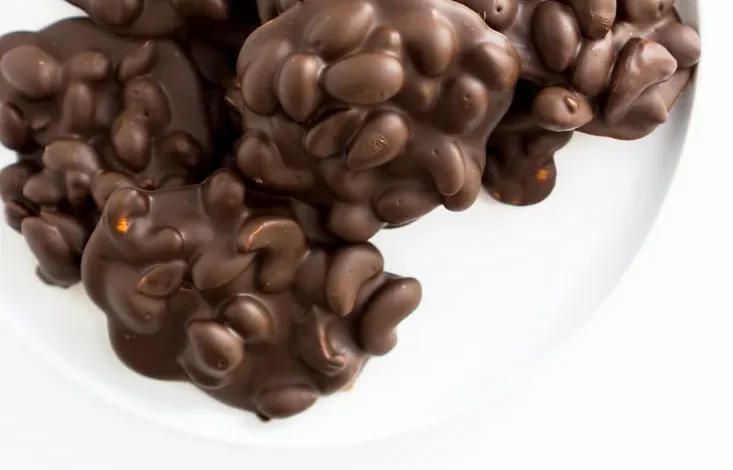 Ingredients
9 ounces Sugar free Chocolate Chips (Click here to see my favorite brand on Amazon)
2 tablespoons coconut oil
¼ cup Hemp Hearts
1 cup chopped walnuts
1 cup chopped pecans
1 cup chopped almonds
¼ cup Powdered Sweetener (Click here to see my favorite on Amazon)
Equipment
1 tablespoon food disher
Free Keto Meal Plan : KETO DIET PLAN FOR BEGINNERS STEP BY STEP GUIDE
Instructions
Combine the chocolate chips and coconut oil in a large sized microwave safe bowl. Microwave on high for 30 seconds. Remove from the microwave and stir the chocolate chips. Microwave for 30 seconds more. Remove from the microwave and stir. Microwave in 10 seconds increments until there are only a few chocolate chips left to melt. Continue to stir until all remaining chips are melted.
Add the hemp hearts, chopped nuts, and powdered sweetener to the melted chocolate chips. Mix until all your ingredients are combined evenly.
Line 2 baking sheets with parchment paper or a silicone baking mat. Use a 1 tablespoon food scoop to dish out the mixture into 36 clusters. Alternatively you can use a 1 tablespoon measure and a small silicone spatula to evenly distribute the mixture.
Place in the refrigerator for about 1 hour or until the clusters are frim. Serve. Store in an air tight container.
Free Keto Meal Plan : KETO DIET PLAN FOR BEGINNERS STEP BY STEP GUIDE

Servings: 36
Nutrition per serving
Serving: 1cluster | Calories: 100 | Carbohydrates: 4g | Protein: 2g | Fat: 10g | Fiber: 3g