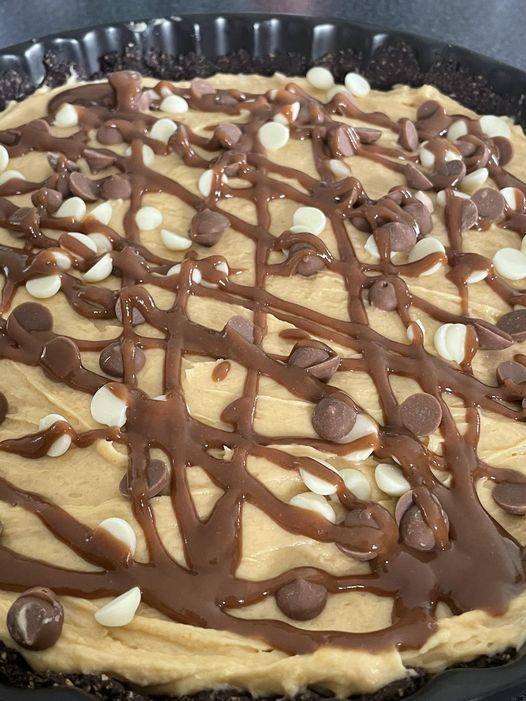 I rarely make desserts, but today I made a Keto Chocolate Peanut Butter Pie. Made with a chocolate crust, peanut butter filling, topped with milk and white chocolate chips and a chocolate peanut butter drizzle. My little one is really looking forward to digging in. Without trying it he has already declared it's the best pie ever.
Ingredients
For the chocolate crust:
7 tablespoons butter, melted
2 cups superfine, blanched almond flour
3 tablespoons cocoa powder
1/3 cup granulated erythritol sweetener
For the filling:
8 ounces mascarpone cheese, room temperature
2/3 cup sugar free creamy peanut butter, room temperature
1 3/4 cups heavy whipping cream
1/2 teaspoon vanilla
1/4 teaspoon xanthan gum
1/2 cup powdered erythritol
For the topping:
4 squares lindt 90% chocolate
2 tablespoons sugar free peanut butter
1 tablespoon heavy whipping cream
1 tablespoon powdered erythritol
1/4 cup chopped salted peanuts
Instructions
For the chocolate crust:
Preheat the oven to 350° F.
Combine the melted butter, almond flour, sweetener and cocoa powder in a medium sized bowl and mix well.
Transfer the crust dough to a 9-inch pie plate.
Press the crust firmly into the bottom and up the sides.
Bake the crust for 10 minutes.
Remove from the oven and set aside to cool.
To make the filling:
Combine the mascarpone and peanut butter and stir gently by hand until creamy and fully combined.
Combine the heavy whipping cream, vanilla, xanthan gum, and erythritol in a large bowl and whip until stiff peaks form.
Carefully fold the peanut butter mixture into the whipped cream.
Transfer the filling to the cooled crust and smooth with a spatula.
Freeze for 30 minutes.
To make the topping:
Combine the peanut butter, heavy whipping cream and erythritol in a small bowl and mix well.
Spoon into a plastic baggie and snip the tip off one corner.
Squeeze lines of the peanut butter mixture onto the top of the pie.
Heat the chocolate in a microwave safe bowl until melted.
Transfer the chocolate into a plastic baggie and snip the tip off of one corner.
Drizzle the melted chocolate over the top of the pie.
Sprinkle the top of the pie with chopped peanuts.
Serve immediately for a softer pie, or freeze for 2 hours or more for a firmer, frozen pie.
Notes
Approximate net carbs per serving = 5g
Prep Time: 20 minutes
Cook Time: 10 minutes
Nutrition
Serving Size: 1/12th pieCalories: 496Fat: 48gCarbohydrates: 9gFiber: 4gProtein: 10g