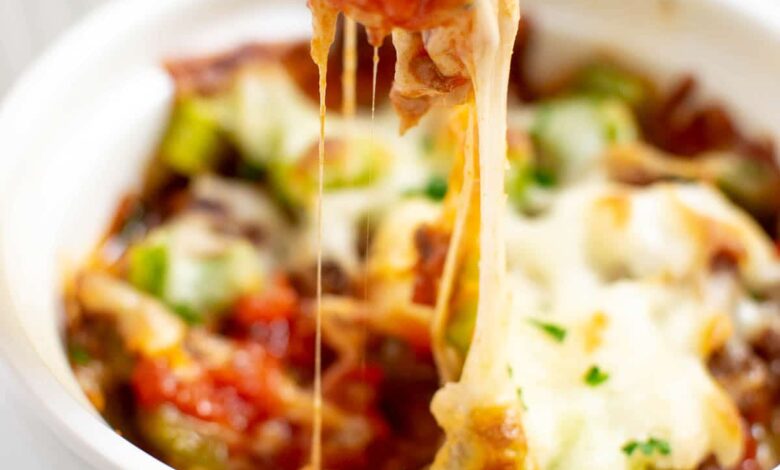 These Easy Pizza Bowls are freshly baked crustless pizza with your favorite toppings like pepperoni, veggies, and cheese. This recipe is low-carb, flavorful and ready in just 15 minutes, just like Marco's pizza bowl.
Prep time: 7 MINS
Cook time: 8 MINS
Total time: 15 MINS
Servings: 4
Ingredients 
1 mild Italian sausage, casing removed
1 cup white mushrooms, sliced
½ medium onion, yellow or white
½ green bell pepper
2 cups pizza sauce, or marinara sauce
8 pepperoni slices, or 4 oz mini pepperoni slices
2 cups shredded cheese, three-cheese blend (see note)
Romesan Seasoning
1 tablespoon parmesan cheese, grated
½ teaspoon Italian seasoning
Free Keto Meal Plan : KETO DIET PLAN FOR BEGINNERS STEP BY STEP GUIDE
Instructions
Preheat your oven to 450°F. Set aside 4 ramekins or similar oven-safe dishes. Get all your ingredients ready.
Place a large nonstick skillet over medium-high heat. When hot, add the sausage and fry until browned, about 5 minutes. Use a wooden spoon to break up large clumps and stir the meat from the time to time.
Remove the cooked sausage to a plate. Next, add the onions, mushrooms and green peppers to the pan. Fry for several minutes until softened slightly.
Place the ramekins on a baking sheet. Brush the bottoms with pizza sauce. Add a layer of cheese. Then add a layer of cooked sausage and a layer of onion mixture.
Finish by brushing with more sauce and topping with more cheese. Then sprinkle parmesan and Italian seasoning. Add a few pepperoni slices on top of each pizza bowl.
Place the baking sheet with the pizza bowls into the preheated oven. Bake until the cheese is bubbling and golden, about 7 to 9 minutes.
Remove the ramekins from the oven. Let cool for 2 to 3 minutes before serving.
Free Keto Meal Plan : KETO DIET PLAN FOR BEGINNERS STEP BY STEP GUIDE
Notes
Spicy Variation: Use spicy Italian sausage instead of mild Italian. Top with red pepper flakes before baking.
Three-cheese blend: You can use a cheddar-mozzarella pizza blend, Tex-Mex blend or similar.