Blogs
Keto Grilled Cheese Chaffle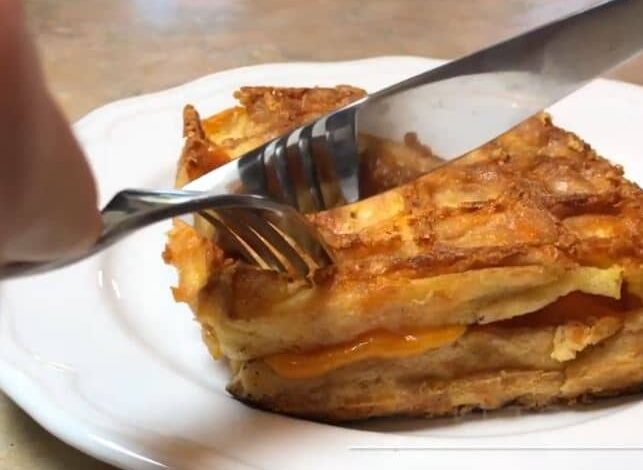 PREP TIME3minutes mins
COOK TIME10minutes mins
COURSEBreakfast
CUISINEAmerican
SERVINGS1
CALORIES594 kcal
INGREDIENTS
1 egg
1/4 teaspoon garlic powder
1/2 cup shredded cheddar
2 Slices American cheese or 1/4 cup of shredded cheese
1 tablespoon butter
INSTRUCTIONS
Your Dash tiny waffle maker should be heated.
Combine the egg, garlic powder, and shredded cheddar cheese in a small bowl.
Add half of the chaffle mixture once the dash waffle machine is hot. After 4 minutes of cooking, remove.
The dash micro waffle maker should be filled with the remaining chaffle batter and cooked for 4 minutes.
Upon completion of both chaffles, heat a pan on the stovetop over medium heat.
Melt ONE tbsp. butter and add. Place ONE chaffle(once the butter has melted). Add the second chaffle on top of that one, then top it with the cheese of your choosing.
The chaffle should be heated for one minute on the first side before being turned over and cooked for an additional one to two minutes to finish melting the cheese.
Enjoy!
Nutrition
549 kcal; 3 g of carbohydrates; 27 g of protein; 48 g of fat; 28 g of saturated fat; 295 mg of cholesterol; 1216 mg of sodium; 172 mg of potassium; 1 g of sugar; 1550 IU of vitamin A; 871 mg of calcium; and 1 mg of iron;
Course: Grilled Cheese Chaffle, Main Dish: American Cuisine, Keyword: Grilled Cheese Chaffle