Blogs
Zucchini Fritters (keto + low carb)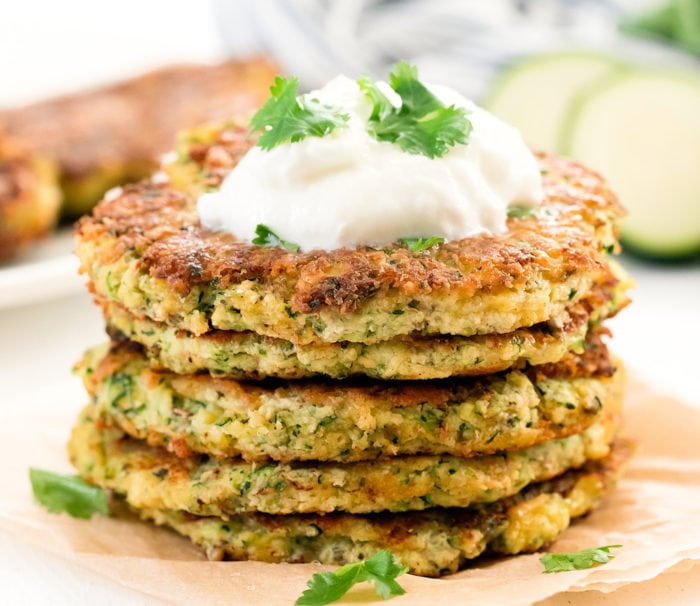 yield: 10
prep time: 15 MINUTES
cook time: 6 MINUTES
total time: 21 MINUTES
You will love these keto Zucchini Fritters ! Made with fresh zucchini, coconut flour and cheddar cheese, this delicious appetizer is only 2 net carbs each!
Ingredients
3 cups shredded zucchini, dried and packed
1/2 cup shredded cheddar cheese
1/4 cup onion, chopped
3 large eggs
1/3 cup coconut flour
1 teaspoon baking powder
1 teaspoon garlic powder
1 teaspoon Italian seasoning
1/4 teaspoon xanthan gum
**Salt to taste AFTER cooking, if you add salt to the mixture itself it will release more moisture and be soggy.
Instructions
Shred the zucchini and place in a tea towel, fold the towel up and wring as much water out of the zucchini as you can. I do this at least two times.
Place all of the ingredients in a mixing bowl and stir until well combined. Allow the mixture to sit 5 minutes. Coconut flour absorbs a lot of moisture, so it needs a few minutes to soak everything up.
Heat a large skillet over medium heat with just enough oil to cover the bottom nicely. Use a small (1.5 inch cookie scoop) carefully place the batter in the hot oil and flatten slightly. Allow the fritters to cook 2-3 minutes until golden brown, then flip.
Salt and pepper to taste after cooking, serve with lemon wedges if desired.
Nutrition Information:
YIELD: 10 SERVING SIZE: Nutrition calculated per fritter
Amount Per Serving: CALORIES: 65TOTAL FAT: 4gCHOLESTEROL: 62mgSODIUM: 71mgCARBOHYDRATES: 3.2gNET CARBOHYDRATES: 2gFIBER: 1.2gSUGAR: 1.6gPROTEIN: 4g