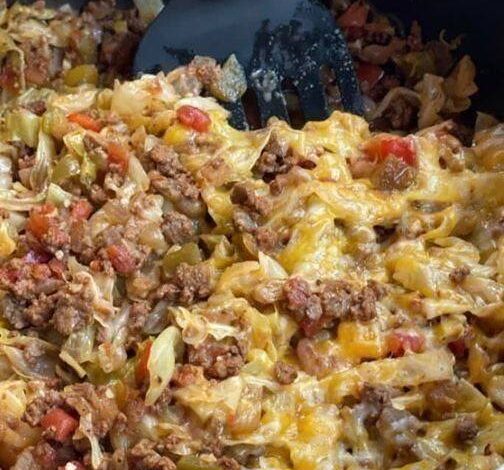 Ingredients:
1 lb ground beef
1 small onion, diced
2 cloves garlic, minced
4 cups shredded cabbage
1 can (14.5 oz) diced tomatoes
1 can (8 oz) tomato sauce
1/2 cup beef broth
1 teaspoon dried oregano
1 teaspoon dried basil
Salt and pepper to taste
Instructions:
In a large skillet, brown the ground beef over medium heat, breaking it up into crumbles. Drain any excess fat.
Add the diced onion and minced garlic to the skillet and cook until the onion is translucent.
Stir in the shredded cabbage and cook for a few minutes until it starts to soften.
Add the diced tomatoes (including the juice), tomato sauce, beef broth, dried oregano, dried basil, salt, and pepper. Stir well to combine.
Reduce the heat to low, cover the skillet, and simmer for about 15-20 minutes or until the cabbage is tender, stirring occasionally.
Taste and adjust the seasonings if needed.
Serve hot and enjoy!
Nutrition Information (per serving):
Calories: Approximately 320
Total Fat: 17g
Saturated Fat: 6g
Cholesterol: 67mg
Sodium: 510mg
Total Carbohydrates: 17g
Dietary Fiber: 5g
Sugars: 9g
Protein: 25g
Note: The nutrition information may vary slightly depending on the specific brands of ingredients used.