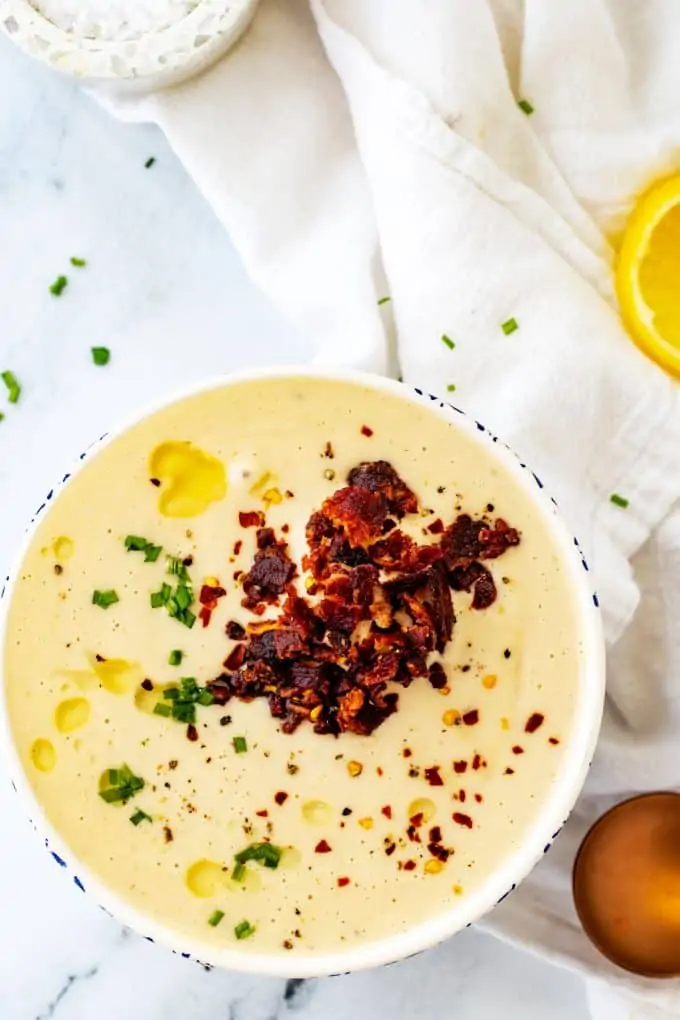 Free Keto Meal Plan : KETO DIET PLAN FOR BEGINNERS STEP BY STEP GUIDE
Move over potatoes! This Keto Cauliflower Cheese Soup has all of the flavors of your favorite soup with a fraction of the carbs. Pure comfort food that never gets old!
Prep Time15 mins
Cook Time40 mins
Total Time55 mins
Course: Soup
Cuisine: American
Keyword: Soup
Servings: 6
Calories: 349.73kcal
Author: Wendy Polisi
Equipment
Large Pot
Immersion Blender
Ingredients
2 tablespoons butter
1 large head cauliflower cut into florets
½ cup diced onion
1 teaspoon minced garlic
½ teaspoon dried thyme
3 ½ cups chicken broth
4 ounces cream cheese diced
1 cup cheddar cheese
½ cup smoked gouda or more cheddar
½ cup heavy cream
Salt and pepper to taste
For garnish: chives and bacon
Instructions
Heat the butter in a large pot over low heat. Add the cauliflower, onion, garlic, and thyme. Cover and cook for 5 minutes.
Add the chicken broth to the pot and increase heat to high. Bring to a boil and then reduce the heat to a simmer. Cook, stirring occasionally, until the vegetables are tender, about 30 minutes.
Remove from heat. Using an immersion blender, puree the soup until very smooth. (You can also puree in batches using a blender.)
Return the pot to medium-low heat and add the cream cheese and shredded cheeses. Cook until the cheese melts, about 5 minutes. Stir in the heavy cream and season to taste with salt and pepper.
Nutrition
Calories: 349.73kcal | Carbohydrates: 8.82g | Protein: 13.79g | Fat: 29.83g | Saturated Fat: 18.16g | Trans Fat: 0.15g | Cholesterol: 100.25mg | Sodium: 911.09mg | Potassium: 502.75mg | Fiber: 2.19g | Sugar: 3.57g | Vitamin A: 967.92IU | Vitamin C: 57.09mg | Calcium: 341.19mg | Iron: 1.07mg
Free Keto Meal Plan : KETO DIET PLAN FOR BEGINNERS STEP BY STEP GUIDE