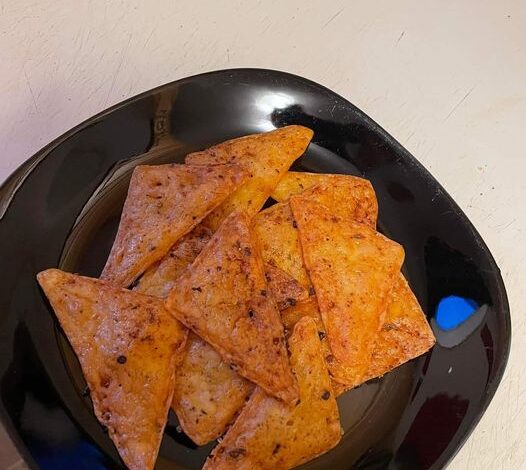 When the need to dip strikes, this Keto Tortilla Chips Recipe is just what you need! Crunchy and oh-so-satisfying, this is one you will turn to again and again.
Ingredients
1 ½ cups shredded mozzarella cheese
½ cup blanched almond flour
1 tablespoon flax meal
½ teaspoon onion powder
½ teaspoon ground cumin
¼ teaspoon salt

Free Keto Meal Plan : KETO DIET PLAN FOR BEGINNERS STEP BY STEP GUIDE
Instructions
Preheat the oven to 375°F.
In a bowl, melt the mozzarella cheese in a micro-wave oven for 1 minute on high, stir, then heat for another 30 seconds or so until all the cheese is melted.
Stir in the almond flour, flax meal, onion powder, cumin, and salt. Roll the dough out on parchment paper or a silicone baking mat until it is very thin, ¹⁄8 inch or less thick. Score into triangles using a pizza cutter or knife. (If using a silicone mat, use a duller knife so it doesn't cut the silicone.)
Bake for 10 to 15 minutes, until just golden brown.
Cool completely before serving. If not eating right away, store in an airtight container in the refrigerator for up to a week.

Free Keto Meal Plan : KETO DIET PLAN FOR BEGINNERS STEP BY STEP GUIDE
Nutrition
Calories: 144.16kcal | Carbohydrates: 3.13g | Protein: 8.45g | Fat: 11.41g | Saturated Fat: 4.06g | Cholesterol: 22.12mg | Sodium: 273.21mg | Potassium: 30.77mg | Fiber: 1.31g | Sugar: 0.65g | Vitamin A: 189.28IU | Calcium: 163.97mg | Iron: 0.65mg